Our Elected Leaders: Board Members
Our Board President is Clinton Bench, who previously served as our Treasurer:
"I'm Clinton, and honored to be serving as Emerson's President during this transformative time in our
Association and in our country.  I have identified as Unitarian Universalist since my childhood  in Central Indiana.  The biggest chunk of my life was spent in the Boston area where I served on the board of the First Parish in Cambridge for some time.  My husband, Jamie, and I moved to the San Fernando Valley in mid-2015 along with our 2 cats, Lofn and Freia.  Since then, our family has grown with the addition of a son, David, who is now 22.  We love traveling to random corners of the world and competing with friends about how many airports we've flown to over our lifetimes.  We like hiking, cooking foods without animal flesh in them, and being gentle to our planet.  I am in stasis as a Democratic Party (USA) / Liberal International political activist (think Liberal Party of Canada on the world political spectrum) while I focus more of my time on Emerson leadership responsibilities.  I am certainly not in stasis in my day-to-day job as Director of Fleet & Transit at UCLA where I'm in charge of most things with motors and tires."
Our Vice President is Louise Rovner.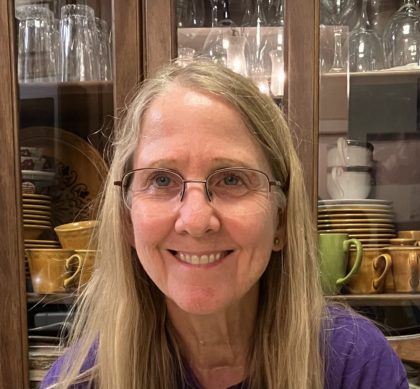 Tracy Watson is currently serving as Treasurer on the Board of Trustees. She joined Emerson in 1985 and raised her two daughters as UUs. Over the years she has taught RE, helped with monthly pot lucks, served as Board Secretary, and participated in the church book club and hiking club. She is a retired lawyer and looks forward to visiting as many national parks as possible, as well as spending time with her grandchildren.
Our Board Secretary is Aimee Noel.  Aimee Noel is a Licensed Clinical Social Worker currently working as atherapist in private practice. Aimee found Emerson Unitarian Universalist Church during the pandemic when she was searching for a progressive, inclusive spiritual home.  Since then she has become a member, joined the Worship Associate team and now has transitioned to the role of Secretary of the Board of Trustees. She is dedicated to creating an inclusive community and has a wheelchair accessible van to bring her mother-in-law and anyone else that needs help getting to the sanctuary.
Our Trustee at Large is House Dow.