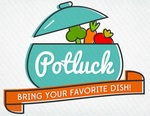 ALL EMERSON FIRST SUNDAY POTLUCK – after Service
Emerson provides a wonderful Potluck meal after services on every First
Sunday.   Join Us!!
"Our social hour's meeting and greeting
is even more fun with ethical eating,
So bring a tasty treat to share,
homemade or store-bought, to show you care,
And set up and clean up can be a gift too,
when you spend half an hour with the first Sunday crew!
Fall Festival Service Auction
November 3, 2018
The biggest fundraiser of the year was held last Saturday, with lots of events and opportunities!