News
______________________________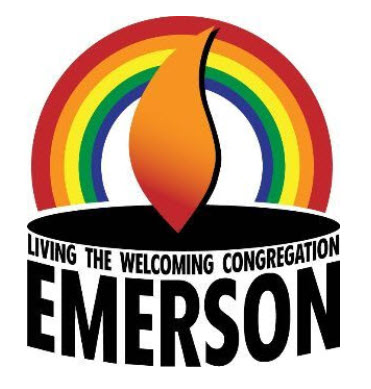 Emerson UU Board Meeting:
2nd Monday of Each Month at 7 PM

Everyone is invited to attend via Zoom:
live.emersonuuc.org
Or Enter Zoom Meeting ID: 858 109 2800 – Password: chalice
Or call (669) 900-6833 and enter the Meeting ID: 858 109 2800
____________________________________

Emerson continues with our multi-platform worship services, with the opportunity to join in-person or online.  In the interest of protecting our community and the most vulnerable, and slowing pandemic spread, we continue to recommend full vaccinations and boosters, and require masks indoors.  Please also observe our Health and Safety Covenant. 
__________________


2023 will be the 100th anniversary of Norbert Čapek's first flower ceremony and a group of UU professionals are undertaking the planning of a commemoration. This will likely include the creation of ritual, liturgy, and worship elements to share with UU congregations worldwide, that we may all celebrate this momentous anniversary together spiritually. The elements are just starting to take shape but could include readings, stories, poetry, music, audio and video. Although in the initial stages, we are looking to include in some manner, the church in Prague where the original ceremony was held, the Unitarian Church in Cambridge, MA where Mája Čapek held the first American ceremony, as well as iterations of the ceremony across the world. Other potential elements of the celebration may include a planting of seeds ritual in which congregations participate in preparation for the anniversary as well as the production of a commemorative video which will include recordings of completed celebrations worldwide. To learn more about the planning, please contact Pastor Joshua Berg (joshua@heartmindspiritministry.com).
________________

Read the Unitiarian Universalist Service Committee's Statement on the War in Ukraine and find links to additional ways to help Ukraine and other areas in need. The UUA also recommends making donations to the United Nations Refugee Agency, UNHCR at https://www.unhcr.org/en-us/
__________________
Anti-Racism, Widening our Circle, and the Proposed 8th Principle of UU.  
Our shared commitment to the seven principles is a central part of what connects us as Unitarian Universalists. Momentum is growing among UU's for the inclusion of an 8th Principle to work together against racism and other oppressions in order to build a diverse multicultural Beloved Community.  At our Congregational meeting in June, 2021, Emerson UU members endorsed the spirit and intent of the 8th Principle.  Emerson's Racial Justice Task Force is studying a Report by the UUA's Commission on Institutional Change in order to develop recommendations as to how we at Emerson can "widen our circle of concern" to be more inclusive and anti-racist.  Learn more on our Racial Justice Group Page on this website under the Community menu above, and also at https://www.8thprincipleuu.org/
______________________________________

Not "Breaking" News But Still Current:  EARTH DAY IS EVERY DAY:  ECO-CHALLENGE 
Our planet is in crisis – and to create a life sustaining future, it's going to take all of us to do all we can. The good news is that YOUR actions make a difference – and there are solutions at our fingertips.  See a variety of action choices you can take in our Environmental Justice Ministry page in our Community menu above, or by following this LINK.