News
Emerson UU Board Meeting:
2nd Monday of Each Month at 7 PM
Next Meeting:  Monday, November 8, 2021, 7 PM
Everyone is invited to attend via Zoom:
live.emersonuuc.org
Or Enter Zoom Meeting ID: 858 109 2800 – Password: chalice
Or dial: (669) 900-6833 and enter the Meeting ID: 858 109 2800
Meeting Agenda
Board Minutes of July 12, 2021
_________________________________________
Upcoming Class: The Big Questions: UU Theology (for parents and other adults)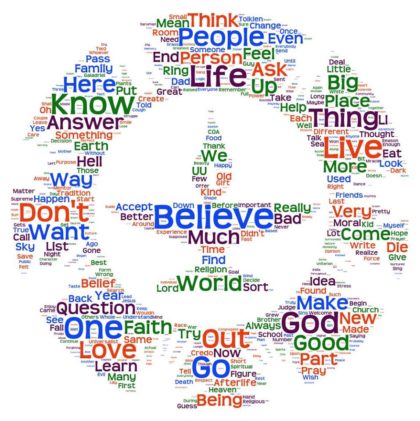 This five-week course looks at the big questions of life. We will explore together our UU history, our values about right and wrong, our ideas about God and spirituality, and other questions about the meaning and mystery of life. We won't tell you the answers—but by learning to explore and express your own beliefs, we hope you can more easily respond to the questions of your children.There is a special focus on parents, but all adults are welcome and will find it enriching!  For more information, see "The Big Questions" under the Community menu, above.
___________________________________
EMERSON ENDORSES AN 8TH PRINCIPLE OF UU.  
Our shared commitment to the seven principles is a central part of what connects us as Unitarian Universalists. Momentum is growing among UU's for the inclusion of an 8th Principle. At our Congregational meeting in June, 2021, Emerson UU members endorsed the spirit and intent of this 8th Principle.  

The core idea, or a "kid's version" of the 8th Principle may be thought of as "We must work together to make sure each and every individual is cherished."  The adult version has not been finalized but currently is "We, the member congregations of the Unitarian Universalist Association, covenant to affirm and promote:  journeying toward spiritual wholeness by working to build a diverse multicultural Beloved Community by our actions that accountably dismantle racism and other oppressions in ourselves and our institutions."   While this version seems very wordy, the concepts underlying the phrases are worth exploring, as are the following questions about the 8th Principle: What would that mean? Why is this important? How could we be transformed?  
Learn more at our Racial Justice Group Page on this website under the Community menu above, and also at https://www.8thprincipleuu.org/
__________________________________________________
The Inquirers Series is an introduction to Emerson Unitarian Universalist Church and to Unitarian Universalism in general. Seven topics are covered, one per session, and the sessions are cycled throughout the year.
Participants are invited to join at any time, and all are welcome! The sessions are led by lay leaders in our congregation. Those who are considering Emerson membership are invited to attend these classes before deciding to join.
The Inquirers Series is a great space for newcomers and friends, as well as new and old members to explore our church community and to share their journeys with one another.
For a list of topics, see the Inquirers Series page under the Community menu HERE.  
The Inquirer Series will be on hiatus until Fall.
______________________________________

Not News But Still Current:  EARTH DAY IS EVERY DAY:  ECO-CHALLENGE 
Our planet is in crisis – and to create a life sustaining future, it's going to take all of us to do all we can. The good news is that YOUR actions make a difference – and there are solutions at our fingertips.  See a variety of action choices you can take in our Environmental Justice Ministry page in our Community menu above, or by following this LINK.